World-Class Fulfillment Center
Our goal then and now is to provide quality on time service
General Cargo (Room-Temperature) Warehouse
For online sellers, you can rent DPX warehouse to store your products by choosing the warehouse space as per your need. We have room-temperature storage zone for your general cargo, and temperature-controlled storage zone for more sensitive products such as cosmetics, and food supplements. We have a professional team to do stock counting. Our warehouse is controlled by effective IT system in every operational step with 24-hour security system.
Temperature-Controlled Warehouse
Suitable for cosmetics, food supplements, or high-value products
World-Class Fulfillment Center
Our 8-rai warehouse is operated with world-class standard, satisfaction guaranteed by many global-brand customers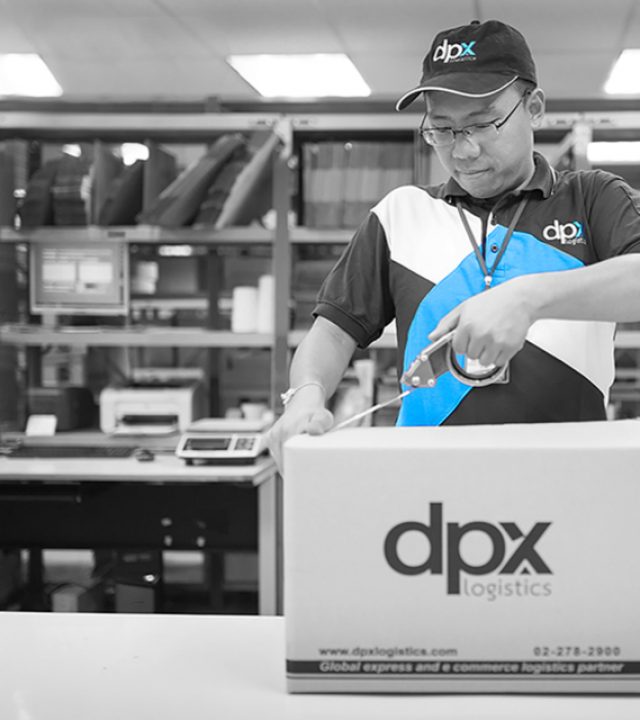 Customized Packing as per your Needs
You can choose your own specific packaging or use our dpx standard packaging materials.

Dpx ecommerce – the leading fulfillment service provider of Thailand, guaranteed by world-class quality standard, global brand customers, and IT connection to all leading ecommerce platforms.
60 Soi Aree 5 North,
Phaholyothin Road, Phayathai,
Phayathai, Bangkok 10400

Mobile : 082-444-9964
Tel: 02-278-2900
Fax: 02-278-2600
Email: ar@dpxecommerce.com